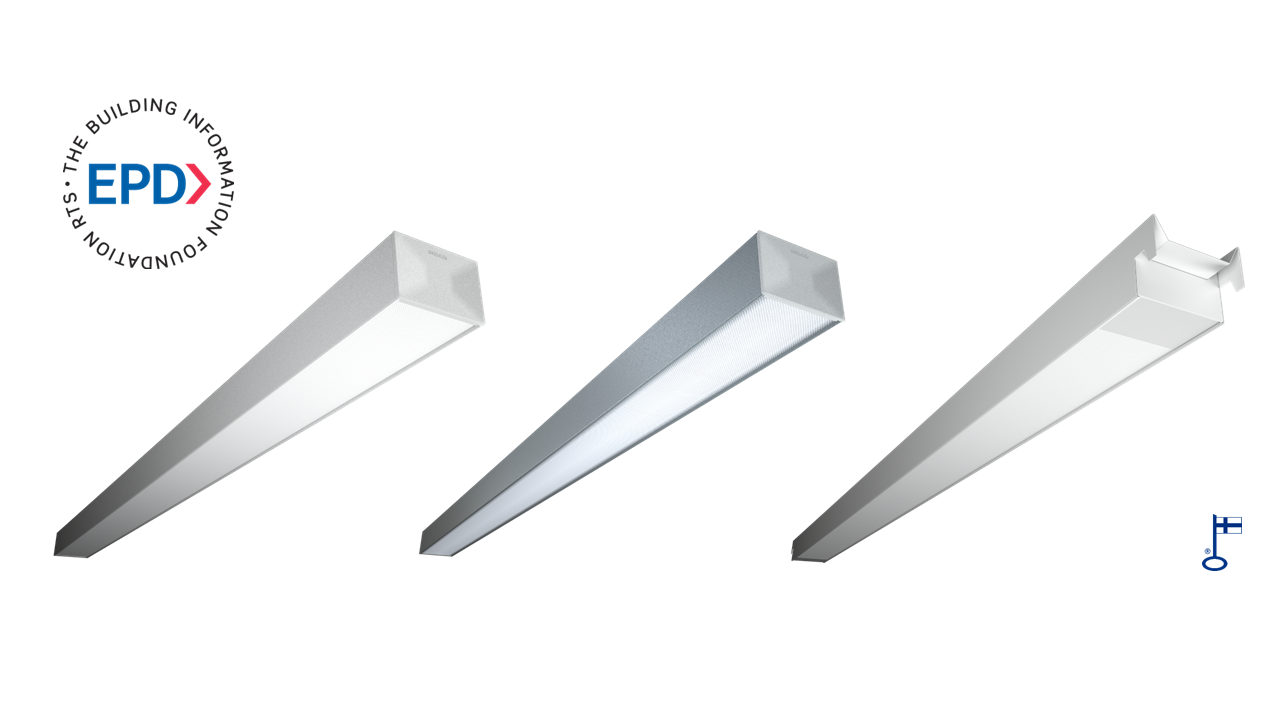 April 27, 2023
WE PUBLISHED THE ENVIRONMENTAL PRODUCT DECLARATION OF THE PHI LUMINAIRE
We were the first luminaire manufacturer to publish a third-party verified RTS Environmental Product Declaration for a luminaire manufactured in Finland. The EPD (Environmental Product Declaration) is a document that describes the environmental impacts of a product throughout its life cycle. The results presented in the Environmental Product Declaration are based on Life Cycle Assessment (LCA), which is a standardized method for determining the environmental impacts during the life cycle.
In the EPD, the life cycle is divided into modules that describe the different stages of the life cycle: from the procurement and production of raw materials to the transport, use and finally waste treatment and possible recycling of the finished product. The Environmental Product Declaration presents a number of environmental impact indicators, including carbon footprint, acidification, ozone depletion and eutrophication. The Environmental Product Declaration of Greenled's Phi luminaire product family has been prepared in cooperation with the Karelia University of Applied Sciences, and the Environmental Product Declaration has been verified by Ramboll Finland Oy.
"The EPD enables us to provide our customers with verified and comparable information on the environmental impact of our products," says Jani Kaaresto, Product Specialist and Sustainability Manager at Greenled. "It also enables us to verify that the emissions during the manufacturing phase of a luminaire manufactured in Finland, which has been designed with material efficiency and material choices in mind from the very beginning, are relatively low."
The life cycle assessments carried out for the Environmental Product Declaration provide the company with important information on what to focus on in product development and production in order to reduce the environmental impact of products throughout their life cycle.
"It is important to understand that the majority of the emissions during the life cycle of a luminaire are generated by the electricity consumed by the luminaire during its use. Naturally, we cannot influence how clean is the electricity which our customers use, but we can influence the energy efficiency of our products," says Kaaresto. "Energy efficiency is one of the things we have focused in from the beginning. For example, we have paid special attention to the selection and quality of LED modules and drivers in terms of luminous efficacy, lifespan and efficiency," says Kaaresto.
Download the Phi Vision, Linear and Modul luminaire Environmental Product Declaration
Learn more about the Phi luminaire product family
If you have questions considering Phi luminaires EPD, please contact:
Jani Kaaresto
Sustainability Manager
jani.kaaresto@greenled.fi
+35820 1255 838
Vesa Vähänen
Director of Development
vesa.vahanen@greenled.fi
+35820 1255 805