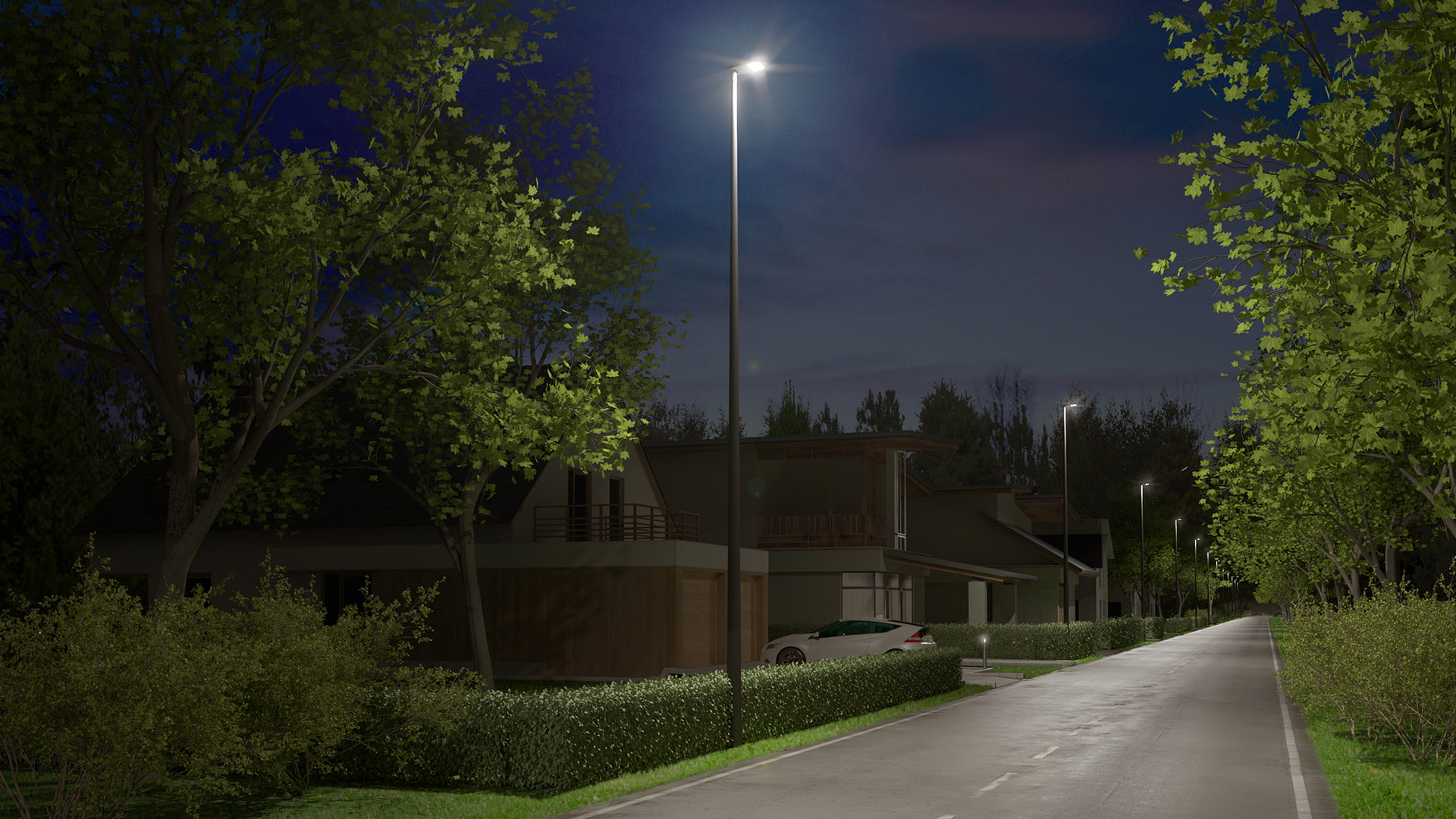 November 20, 2019
Vega S brings modern opportunities to street and area lighting
As the autumn approaches, the days get shorter and nights get longer. The darkening nights show where there is room for improvement when it comes to illuminating suburbs, parks and pedestrian walkways. Greenled's new Vega S is a versatile luminaire that adapts to many uses. It is designed to create a pleasant atmosphere, increase safety and save energy in Nordic conditions. Read on to learn more about Vega! 
The opportunities and challenges of designing functional area and street lighting
The opportunities and challenges of designing functional outdoor lighting are similar everywhere in the Nordic countries. Appropriate street and area lighting make life easier whereas poorly planned lighting can get in the way of daily activities in many ways. The examples below show how well-planned area and street lighting can help make everyday life easier. Good lighting also adds to a city's appeal.
Appropriate street lighting creates a pleasant atmosphere
The dark Nordic weather conditions create unique challenges for functional street lighting. Typically, street lighting in a Finnish town has been built decades ago. As time passes, the lighting capacity of old luminaires might get weaker. In addition, in many suburbs diffused light and light pollution present their own challenges.
Let's look at a new suburb where the city planners paid special attention to functional area and street lighting. The suburb is cosy and has a warm atmosphere, comment local residents when asked about the lighting.  Well-Designed lighting can be an invaluable help in small but frequent daily tasks, and it doesn't create glare or illuminate the wrong things.
Vega S is a versatile area and street luminaire designed to be used in all places where people live and move around.
The versatile light distribution options and low glare of the Vega S luminaire create good, uniform lighting. Pre-installed dimming profiles make it possible to dim the lighting e.g. at night time, naturally also taking safety into account. Smart City compatible drivers and smart lighting control technology open an opportunity for also integrating future technologies.
The right type of lighting in parks and suburban areas improves safety
Out-of-date lighting that has become dimmer with age becomes a bigger challenge when we take increased suburban traffic into account. Increased traffic and weak lighting can together cause unnecessary and dangerous situations. Cities and municipalities have also acknowledged this and therefore aim to create the right conditions for safe movement all around the year, whether a pedestrian or cyclist. Modern well-designed lighting can truly improve safety and the experienced feeling of safety.
Good colour rendering and lighting uniformity in modern LED luminaires show the environment in greater detail. The distinctness for detail, thanks to LED luminaires, in turn, improves safety. This helps drivers, cyclists and pedestrians to notice each other and anything that is happening in their immediate vicinity. When planning lighting for a suburban area, one of the main themes is to create safety and a feeling of safety for those moving in the area.
Vega S is a great fit for the requirements of any city or municipality because of its versatile power and light distribution options.
Tailoring of the luminaires also allow to efficiently utilise reverse optics and backlight; this way, one luminaire is enough to illuminate both the street and the adjacent pedestrian and bicycle lane. A cost-effective solution that improves safety.
New outdoor lighting for different areas and parking lots saves energy
Out-of-date, insufficient lighting can create challenges in different areas and parking lots. Often the significance of good lighting and its modern applications may be unclear until the old lighting needs to be replaced. Much more efficient lighting can be achieved with less power and less energy consumption by swapping out old and dim luminaires with modern LED luminaires. This is what you call a true win-win.
Energy savings are not the only benefit of well-functioning area and street lighting. Optimal lighting illuminance and uniformity can easily be achieved with modern optics alternatives. Previously, the only alternative was to pick a luminaire that had enough power; now there are countless of options when choosing the right luminaire.
Vega S is amazingly energy-efficient and can be tailored in almost a million different ways.
It is an energy-efficient, economic luminaire thanks to its smart lighting control features; the light comes on when needed and can be controlled with i.e. motion detectors. In addition to smart lighting management, the power and optics of Vega S can be tailored to customers' needs.
Vega S – street and area luminaire tailored today's needs
Utilise the opportunities of modern street and area lighting and reap the benefits of obtaining new lighting with Greenled's newly launched Vega S luminaire.
Vega S is a part of our new Vega product family that has been designed based on the challenging conditions of the Nordic countries, like the changes in temperature and amount of light during different seasons. The sleek Scandinavian design of the luminaire and its simple frame structure meet today's modern requirements. External drivers make sure Vega S is compatible with different lighting control systems.
This compact, suburb compatible luminaires suits for example for residential streets, pedestrian and cyclist lanes, and areas surrounding sports facilities. Vega S helps achieve excellent lighting for the exact need.
Why is Vega S the best possible solution for street and area lighting?
Vega S is tailored to customers' needs at Greenled's own factory – Greenled's Vega luminaires are made in Finland from high-quality components. Because of its choice of 10-100 W power and versatile optics, it is perfect for many different environments. In addition to being able to tailor the luminaires, Greenled customers appreciate the appearance, technical properties, quality and delivery time of the Finnish Vega.
Vega is a competitive, cost-efficient area and street luminaire – It is not always best to pick the cheapest option, and the most expensive solution doesn't always guarantee the highest quality. Vega S has been designed to be as cost-efficient as possible considering its quality and delivery time. The luminaire is made in Finland and its high-quality components, reliability and durability make it a cost-efficient, long-term lighting solution.
Vega S has been designed to withstand the challenging Nordic conditions –The capricious Nordic weather, cold, heat and moisture create their own demands to outdoor lighting. The timeless Scandinavian design, ideal energy efficiency and – most importantly – optic properties suitable for Nordic conditions have all been taken into consideration in the design of the Vega luminaire.

Vega S takes future Smart City needs into account – Small, high-quality and structurally simple Vega S is easy to install. Possible future requirements have been taken into account during the design process; for example, integrating external devices and sensors is effortless with NEMA and Zhaga sockets.
Deliveries of the Vega S luminaires will begin at the beginning of 2020.
Learn more about the previously launched Vega L luminaire that is a part of the same product family; watch the preview video below.
https://youtu.be/2fQuF94sXAI 
 Read more about the origins of the Vega product family design
Would you like to learn more? In addition to luminaires, we also offer fast, comprehensive lighting planning and professional customer service that can help with your lighting purchases.