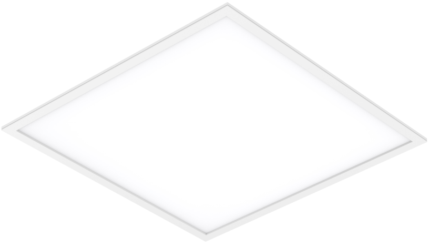 Square Basic
Square Basic is a family of thin, versatile and energy-efficient luminaires for public spaces and IP65 clean rooms suitable for suspended ceilings and surface mounting. The Square Basic luminaire has a glare-free and evenly illuminating light surface. The luminaire is available in opal and microprism versions and there are many different installation methods and power versions to choose from.
Benefits and suitability
Benefits
This luminaire has a cost-efficient and high-quality structure. In the microprism version, the UGR is <19. The luminaire panel has a thin structure (10 mm and overall height <42 mm). The body of the luminaire is made of white painted aluminium (RAL9016). The IP rating of the luminaire is IP40 below the suspended ceiling and IP20 above the suspended ceiling. In the clean-room version, the IP rating is IP65 below and above the suspended ceiling. The IP65 version suitable for clean rooms is only available in 36W on/off microprism. 37W-version is availiable in DT-8 Tunable White and Casambi Tunable White.
Suitability
A general luminaire for offices, hallways, schools, hospitals and other public spaces. Mounting directly on a T-grid ceiling, surface mounting or mounting with suspension cables.
Product families and variants
| Model | Type Code | Power | Luminous flux | Luminaire Efficacy | Lifetime | Operating temperature |
| --- | --- | --- | --- | --- | --- | --- |
| Square Basic 600x600 33W | GLSQB016060+33W | 33W | 3300 lm | 100 lm/W | L70B50 50 000h, C10 50 000h | 0⁰C - +40⁰C |
| Square Basic 600x600 44W | GLSQB016060+44W | 44W | 4450 lm | 100 lm/W | L70B50 50 000h, C10 50 000h | 0⁰C - +40⁰C |
| Square Basic 600x600 37W TW | GLSQB016060+37W+8TW | 37W | 3900 lm | 105 lm/W | L70B50 50 000h, C10 50 000h | 0⁰C - +40⁰C |
| Square Basic 600x600 36W IP65 | GLSQB016060+36W | 36W | 3600 lm | 100 lm/W | L70B50 50 000h, C10 50 000h | 0⁰C - +40⁰C |
Dimensions
| Model | Type Code | Length (L) | Height (H) | Width (W) | Weight |
| --- | --- | --- | --- | --- | --- |
| Square Basic 600x600 33W | GLSQB016060+33W | 595 | 9 | 595 | 2950 |
| Square Basic 600x600 44W | GLSQB016060+44W | 595 | 9 | 595 | 2950 |
| Square Basic 600x600 37W TW | GLSQB016060+37W+8TW | 595 | 10 | 595 | 4050 |
| Square Basic 600x600 36W IP65 | GLSQB016060+36W | 595 | 10 | 595 | 3780 |
General Description
| | |
| --- | --- |
| Colour Temperature: | 3000K, 4000K, 5000K(1, 3000K-5700K (2 |
| Colour Rendering Index: | RA≥ 80 |
| Optic: | Microprism (3 / Opal (4 |
| Light source shield: | PMMA / PP |
| IP class: | IP 40/20 (5, IP65 (6 |
| IK class: | IK06 |
| Supply voltage: | 220-240 Vac |
| Frequency: | 50-60 Hz |
| PF: | > 0,9 |
| THD: | <20% @230V |
| | |
| --- | --- |
| Connection: | Driver with chainable terminal block 3 x (on/off) and 5 x (DALI) x 1.5–2.5 mm². Max ⌀ 9mm. (7 |
| Dimmability: | On/Off, Dali, Casambi, DT-8 TunableWhite, Casambi TunableWhite (8 |
| Colour: | White(RAL9016) |
| Material of the luminaire body: | Aluminium |
| Guarantee: | 5 years |
| Accessories (Installation): | 5405044 600×600 Recessed installation frame UP-RF6060-01, 5405048 600×600 Ceiling surface installation frame UP-CF6060-01, 9905236 Square Basic suspending set, 5405052 Square Recessed installation clips |
Attachment and downloads