Omega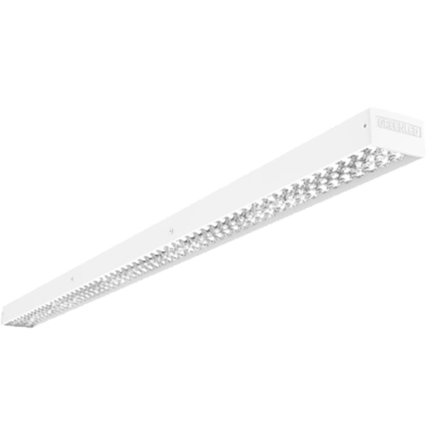 Omega
The OMEGA product family offers superior energy-efficiency combined with superb optics.
The structure of the product and ease of installation always ensure a cost-effective solution.
PURPOSE: Industry, Shop, Sports hall
INSTALLATION: Ceiling surface, Contact track, Luminaire suspension track, Suspended
Benefits and suitability
Benefits
Luminaire with wide range of mechanical arrangements. Self-supporting between the MECH-rails. Wide range of different brackets for different mountings, joining parts and extensions provide cost-efficiency in implementation. Suitable for different purposes thanks to high-quality lenses and multiple power versions. Winsta or Enstonet systems enable easy connectivity and quick installation. A lighting solution that can be upgraded easily.
Suitability
Versatile OMEGA product family has been designed to light the stores, logistic premises, sports halls, offices and public premises.The OMEGA luminaires provide even and glare- free light.
Product families and variants
| Product family | Product family code | Power | Luminous flux | Luminaire Efficacy | Lifetime | Operating temperature |
| --- | --- | --- | --- | --- | --- | --- |
| OMEGA 44W | GLO00044 | 44 W | 6600 lm | 150 lm/W | L70F10>100000h; L80F10>80000h | -20 - +40°C |
| OMEGA 59W | GLO00059 | 59 W | 8450 lm | 143 lm/W | L70F10>100000h; L80F10>80000h | -20 - +40°C |
| OMEGA 67W | GLO00067 | 67 W | 10500 lm | 157 lm/W | L70F10>100000h; L80F10>80000h | -20 - +40°C |
| OMEGA 84W | GLO00084 | 84 W | 11000 lm | 131 lm/W | L70F10>100000h; L80F10=80000h | -20 - +40°C |
| OMEGA 111W | GLO00111 | 111 W | 16000 lm | 144 lm/W | L70F10>100000h; L80F10>80000h | -20 - +40°C |
| OMEGA 132W | GLO00132 | 132 W | 18500 lm | 140 lm/W | L70F10>100000h; L80F10>80000h | -20 - +40°C |
| OMEGA 146W | GLO00146 | 146 W | 22000 lm | 151 lm/W | L70F10=100000h; L80F10>80000h | -20 - +40°C |
Mitat
| Product family | Product family code | Lenght (L) | Height (H) | Width (W) | Weight |
| --- | --- | --- | --- | --- | --- |
| OMEGA 44W | GLO00044 | 1500 mm | 51 mm | 88 mm | 4,5 kg |
| OMEGA 59W | GLO00059 | 1500 mm | 51 mm | 88 mm | 4,5 kg |
| OMEGA 67W | GLO00067 | 2700 mm | 51 mm | 88 mm | 7 kg |
| OMEGA 84W | GLO00084 | 1500 mm | 51 mm | 88 mm | 4,5 kg |
| OMEGA 111W | GLO00111 | 2700 mm | 51 mm | 88 mm | 7 kg |
| OMEGA 132W | GLO00132 | 2700 mm | 51 mm | 88 mm | 7 kg |
| OMEGA 146W | GLO00146 | 2700 mm | 51 mm | 88 mm | 7 kg |
General Description
| | |
| --- | --- |
| Colour Temperature: | 3000 K, 4000 K, 5000 K |
| Colour Rendering Index: | RA≥ 80 |
| Optic: | Lense optics (batwing, narrow, medium, wide, oval and asymmetric) |
| Light source shield: | PMMA |
| IP class: | IP 20 |
| Suplly voltage: | 220-240 Vac |
| Frequency: | 50-60Hz |
| PF: | > 0.95 |
| THD: | < 20% |
Connection:

Chainable max 5*2.5mm2 OR max 3*2.5mm2 and DALI +/-

Dimmability:
ON/OFF or DALI
Colour:
Galvanized steel (option: white powder coating)
Material of the luminaire body:
Steel
Guarantee:
5 years
Accessories (Installation):

Adjustable roof bracket, Threaded rod bracket, Wire bracket (max ⌀8 mm), Lighting suspension rail bracket, Roof bracket, Rail bracket Dr= 2900mm-3600mm (2700mm body); 1800mm-2350mm (1500mm body); 3250mm-3600mm (1500mm body), Extension profile L=1490mm or 2700mm, Joining part (screws included), Lighting suspension rail bracket for cover, Threaded rod bracket for cover, Cover, Bracket for ball impact resistant installations on lighting suspension rails, Adjustable lighting suspension rail bracket

Accessories (Others):

2*3m Wago Winsta / Enstonet cable set for chained connections, extended connections max 7*2.5mm2 or
max 5*2.5mm2 and DALI +/-, Anti glare shades (UGR16)
Attachment and downloads