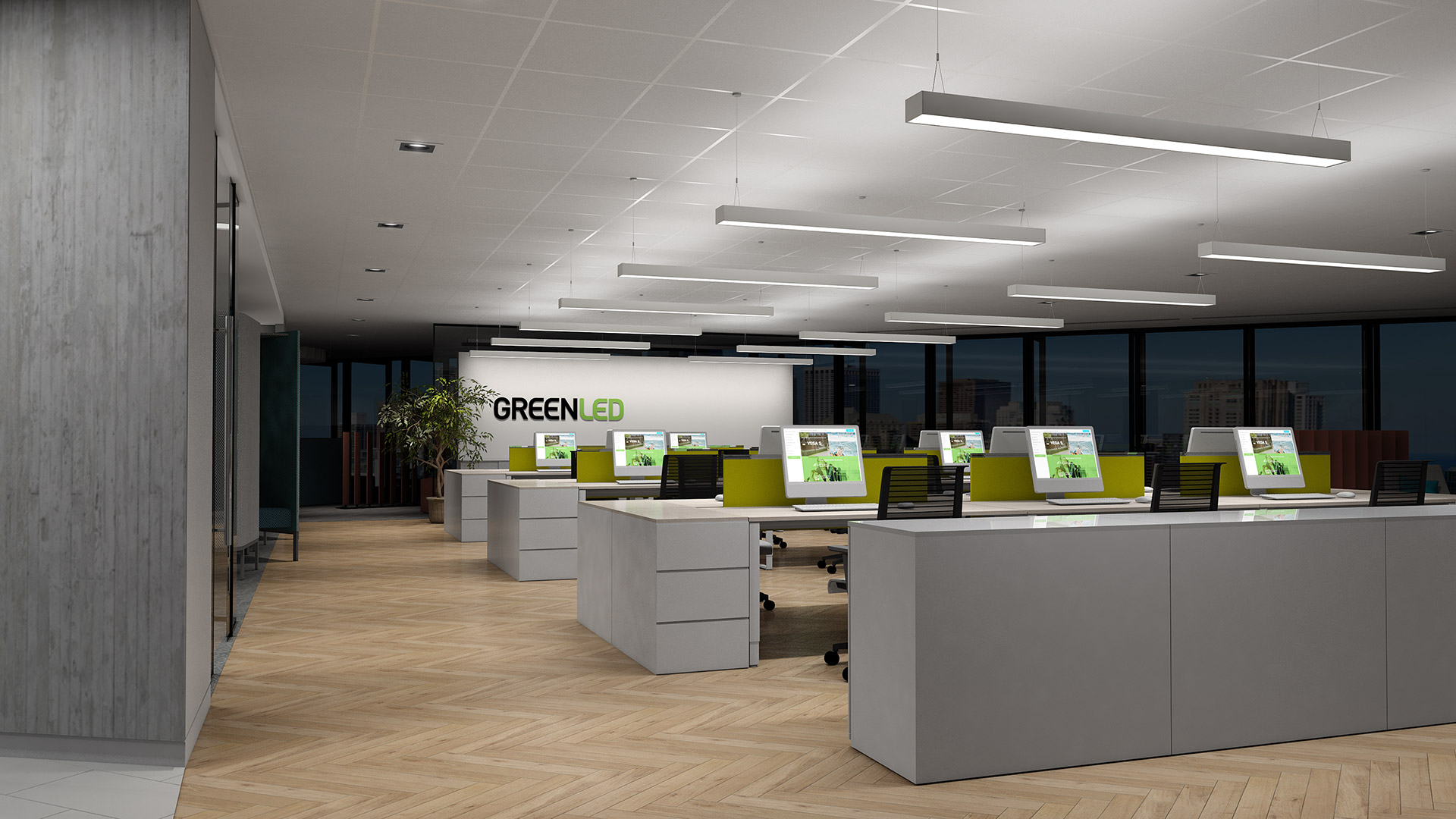 May 4, 2021
The new Phi product family – glare-free light for offices, schools, retail and industry
Greenled has introduced a new range of microprism indoor luminaires. The new Phi Vision, Phi Linear and Phi Modul luminaires provide soft lighting for various interior environments with low glare values.
According to Jani Kaaresto, Greenled product manager, the increased requirements of the upcoming EN 12464-1 indoor lighting standard have been taken into account in the design of the Phi product range.
"The revised indoor lighting standard recommends higher illuminance levels — but this should not lead to high glare values. Phi luminaires have a wide light aperture, which ensures an even and homogenous light surface and glare-free lighting even with higher lumen output."
Phi Vision — style and quality for office and school lighting
Phi Vision luminaire is well suited for both general and workstation lighting in offices and schools. The microprismatic light surface of the luminaire is even and homogenous, and the finished outlook of the luminaire creates an overall impression of quality and prestige. The glare values are low, and the wide aperture provides soft and user-friendly lighting.
Installation and use — both aspects have been taken into account in the design of Phi Vision. The luminaire is easy to connect, and it does not require opening during installation. There are no visible screws, and the frame has an indentation on top, where all the wires and cables can be hidden.
Phi Vision's up- and downlight can be adjusted separately with one driver, which enables human-centric lighting.
Phi Linear – glare-free lighting for retail and industry
Phi Linear is a cost-effective microprism luminaire for the needs of retail and clean industry. The light surface of this luminaire is even and homogenous, which contributes to high-quality and glare-free lighting.
Phi Linear is as easy to connect as Phi Vision. Both products support continuous installation, which is a new installation method applied to some Greenled products. According to Account Manager Emilia Nummenpalo, who works in close co-operation with contractors, the new installation method has been warmly welcomed in the field.
"Continuous linear installation has been praised both by end customers and contractors alike. The installation method is considered extremely easy and fast – there is no need for separate MEK lighting suspension rails, which means that the solution is cost-effective and installation can be completed without any "gimmicks"."
The Phi Linear luminaire has high luminous efficacy, and its structure is very cost-effective – the standard colour of the frame is galvanised steel.
Phi Modul – a retail luminaire designed for Tego ceiling systems
Phi Modul is designed for Nordic needs and can be easily and quickly mounted on a suspended Tego ceiling system. The luminaire is available in six lengths that correspond to the most common profile and grid dimensions used in the ceiling systems.
Phi Modul has the same homogenous microprism light surface as Phi Linear and Phi Vision, and the wide aperture provides a soft end result with a low glare value.