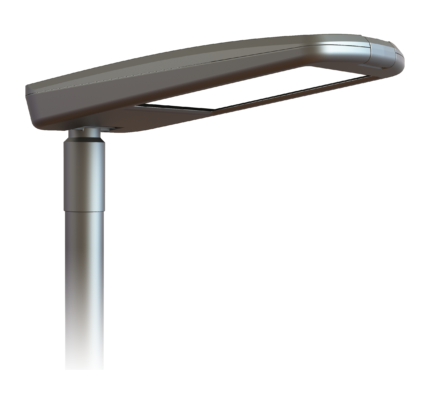 Sirius M
Cost efficient Finnish street luminaire family that was designed to be future proof. Scandinavian design that fits to surroundings built during the times. Combination of good outlooks, durable materials and practicality. Wide range of applicability from high ways, to cities, to residential streets, to cycle ways, to parks and/or to sporting tracks.
PURPOSE: Outdoor lighting, Parking hall, Sports hall
INSTALLATION: Ceiling surface, Pole, Wall surface
Benefits and suitability
Benefits
Reliable outdoor luminaire family with clear and unanimous industrial design from parkways to high ways. High IP66 class combined with durable impact resistant structure (IK09). Wide selection of different lenses covering different lighting needs and pole spacings. SIRIUS luminaire combines low glare values and small cost-of-ownership.
Suitability
Streets of residential areas, collecting roads and city streets. Foothpaths, bicycling tracks and parks. In addition for area and wall wash lighting.
Product families and variants
| Product family | Product family code | Power | Power tuning range 1) | Luminous flux | Luminaire Efficacy | Lifetime | Operating temperature | Optical Safety Distance 2) |
| --- | --- | --- | --- | --- | --- | --- | --- | --- |
| SIRIUS 14M | GLS14M | 15 W | 20-100% | 1850 lm | 123 lm/W | L90B10, C10 150 000 h | -40 - +45°C | 0 m |
| SIRIUS 27M | GLS27M1 | 27 W | 10-100% | 3350 lm | 124 lm/W | L90B10, C10 150 000 h | -40 - +45°C | 1.3 m |
| SIRIUS 27M | GLS27M2 | 27 W | 10-100% | 3700 lm | 137 lm/W | L90B10, C10 150 000 h | -40 - +45°C | 0 m |
| SIRIUS 41M | GLS41M2 | 40 W | 7-100% | 5200 lm | 130 lm/W | L90B10, C10 150 000 h | -40 - +45°C | 1.7 m |
| SIRIUS 41M | GLS41M3 | 41W | 7-100% | 5570 lm | 136 lm/W | L90B10, C10 150 000 h | -40 - +45°C | 0 m |
| SIRIUS 67M | GLS67M3 | 65 W | 8-100% | 8580 lm | 132 lm/W | L90B10, C10 150 000 h | -40 - +45°C | 2.0 m |
| SIRIUS 67M | GLS67M4 | 67 W | 8-100% | 8980 lm | 134 lm/W | L90B10, C10 150 000 h | -40 - +45°C | 0 m |
| SIRIUS 88M | GLS88M4 | 87 W | 15-100% | 11320 lm | 130 lm/W | L90B10, C10 150 000 h | -40 - +45°C | 2.3 m |
| SIRIUS 88M | GLS88M5 | 88 W | 15-100% | 11770 lm | 134 lm/W | L90B10, C10 150 000 h | -40 - +45°C | 0 m |
| SIRIUS 110M | GLS110M | 110 W | 17-100% | 14120 lm | 128 lm/W | L90B10, C10 100 000 h | -40 - +35°C | 2.3 m |
Dimensions
| Product family | Product family code | Length (L) | Height (H) | Width (W) | Weight |
| --- | --- | --- | --- | --- | --- |
| SIRIUS 14M | GLS14M | 550 mm | 75 mm | 300 mm | 7 kg |
| SIRIUS 27M | GLS27M1 | 550 mm | 75 mm | 300 mm | 7 kg |
| SIRIUS 27M | GLS27M2 | 550 mm | 75 mm | 300 mm | 7 kg |
| SIRIUS 41M | GLS41M2 | 550 mm | 75 mm | 300 mm | 7 kg |
| SIRIUS 41M | GLS41M3 | 550 mm | 75 mm | 300 mm | 7 kg |
| SIRIUS 67M | GLS67M3 | 550 mm | 75 mm | 300 mm | 7 kg |
| SIRIUS 67M | GLS67M4 | 550 mm | 75 mm | 300 mm | 7 kg |
| SIRIUS 88M | GLS88M4 | 550 mm | 75 mm | 300 mm | 7 kg |
| SIRIUS 88M | GLS88M5 | 550 mm | 75 mm | 300 mm | 7 kg |
| SIRIUS 110M | GLS110M | 550 mm | 75 mm | 300 mm | 7 kg |
General Description
| | |
| --- | --- |
| Colour Temperature: | 3000 K, 4000 K, 5000 K |
| Colour Rendering Index: | RA≥ 70 |
| IP class: | IP66 |
| IK class: | IK09 |
| Suplly voltage: | 198-264 Vac |
| Frequency: | 50-60 Hz |
| PF: | >0.95 |
| THD: | <10% |
| Overvoltage Prot.: | 10kV L/N-Ground & SD-Ground; 1) |
| | |
| --- | --- |
| Connection: | Luminaire internal terminal block (installation cable as an option) |
| Dimmability: | ON/OFF, StepDIM, AstroDIM, DALI, MainsDIM 2) |
| Colour: | RAL9006 |
| Material of the luminaire body: | Aluminium |
| Guarantee: | 8 years |
| Accessories (Installation): | T-adapter, Pole adapter diam 76 mm -> 60 mm, Ceiling bracket, Wall bracket, Tube bracket |
| Accessories (Others): | Protection class II – assembly |
Attachment and downloads