Sigma Gen2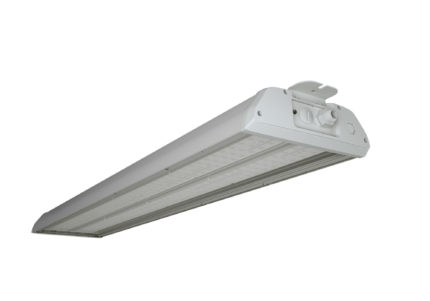 Sigma Gen2
SIGMA luminaire combines functionality with clear streamlined appearance. SIGMA is an environmentally tolerant (IP65 & IK08) luminaire with seamless wall surfaces that are easy to keep clean.
Several surface treatment option are available for different applications and environments.
PURPOSE: Hospital, Industry, Parking hall, Shop, Sports hall
INSTALLATION: Ceiling surface, Luminaire suspension track, Suspended
Benefits and suitability
Benefits
A luminaire with high luminous output, energy efficiency and environmentally tolerant structure for demanding conditions (IP65 & IK08 & pressure equalizing vent). Luminaire is easy to assemble and keep clean.
Suitability
Thanks to its versatile light distributions, the luminaire is well suited for lighting industrial or food industry premises, warehouses as well as sports facilities. An energy efficient LED high bay luminaire with long lifespan.
Product families and variants
| Product family | Product family code | Power | Luminous flux | Luminaire Efficacy | Lifetime | Operating temperature |
| --- | --- | --- | --- | --- | --- | --- |
| SIGMA GEN2 81W | GLSG2081 | 81 W | 11000 lm | 136 lm/W | L70F10 > 100 000 h; L80F10 = 93 000 h | -20 - +50°C |
| SIGMA GEN2 117W | GLSG2117 | 117 W | 14700 lm | 126 lm/W | L70F10 > 100 000 h; L80F10 = 89 000 h | -20 - +40°C |
| SIGMA GEN2 155W | GLSG2155 | 155 W | 20500 lm | 132 lm/W | L70F10 > 100 000 h; L80F10 = 93 000 h | -20 - +50°C |
| SIGMA GEN2 232W | GLSG2232 | 232 W | 29500 lm | 127 lm/W | L70F10 > 100 000 h; L80F10 = 89 000 h | -10 - +40°C |
| SIGMA GEN2 280W | GLSG2280 | 280 W | 40000 lm | 143 lm/W | L70F10 > 100 000 h; L80F10 = 76 000 h | -40 - +30°C |
General Description
| | |
| --- | --- |
| Colour Temperature: | 3000 K, 4000 K, 5000 K 2) |
| Colour Rendering Index: | RA≥ 80 |
| Optic: | 81W & 117W: medium wide or wide / 155W & 232W & 280W: narrow, medium wide or wide |
| Light source shield: | PC 3) |
| IP class: | IP 65 |
| IK class: | IK 08 |
| Suplly voltage: | 202-240 Vac |
| Frequency: | 50-60 Hz |
| PF: | >0.95 |
| THD: | <20% |
| | |
| --- | --- |
| Connection: | Chainable max 5*2.5mm2 OR max 3*2.5mm2 and DALI +/- |
| Dimmability: | ON/OFF, DALI 1) |
| Colour: | Anodized grey (Option other RAL-coded colours) |
| Material of the luminaire body: | Aluminium |
| Guarantee: | 5 years |
| Accessories (Installation): | Lighting track bracket, nut for installation to lighting rails, adjustable lighting track bracket, adjustable wall mount, surface mount bracket, beam bracket, wire suspension bracket |
| Accessories (Others): | Through wiring series, 2*3m pre-mounted cable series for chainable luminaries with Wago Winsta / Enstonet fast couplings (IP20) |